Journal of Innovation and Applied Technology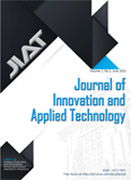 JIAT editorial team, thanks to the authors and contributors of the journal JIAT, to contribute articles entrusted to us. We aim to position JIAT as the leading journal in the field of innovation and technology applied, particularly with regard to public services. To achieve these objectives, JIAT will gradually continue to improve, for now we will slowly begin to reduce the print version, and more focus in the online version of the Journal, the Journal has moved to a model in which the editorial team to play a more active role in the proposal and decision end. We try to respond within four months of receiving the manuscript. We are committed to defend the view that a fair and balanced from different areas in the field of Community Development, Economic Development, Transfer and Diffusion of Technology, Science Innovation and Technology, Institutional Innovation, Development of Local Wisdom, Basic Social Services, Mitigation, adaptation to Climate Change, and entrepreneurial emphasis on innovative work.
Announcements
New Template

Herewith we announce, began publication of Volume 3, Number 1, June 2017, we implemented a new template for writers and contributors to the journal, which can be downloaded, to be used as a guide for writing articles.

We look forward to receiving your best work in the Journal of innovation and applied technology

-JIAT-

Posted: 2017-01-13
More...
Vol 3, No 2 (2017)
Table of Contents
Articles
| | | |
| --- | --- | --- |
| | Anik Martinah Hariati | 451-454 |
| | Pratiwi Trisunuwati | 455-458 |
| | Imam Thohari, Tri Eko Susilorini, Anie Eka Kusumastuti, Firman Jaya | 459-465 |
| | Agus Dwi Sulistiono | 466-469 |
| | Dewi Maya Maharani | 470-475 |
| | Fajri Anugroho, Musthofa Lutfi, Wahyunanto Agung Nugroho | 476-485 |
| | Khothibul Umam Al Awwaly | 486-491 |
| | Agoes Soeprijanto, Pratama Deffi Samuel, Muhammad Fakhri | 492-494 |
| | ali mustofa | 495-498 |
| | warsito warsito warsito | 499-504 |
| | Elvina Dhiaul Iftitah | 505-509 |
| | Vebtasvili Vebtasvili, Desy Yuliana Dalimunthe | 510-516 |
| | Sigit Kusmaryanto | 517-522 |
| | agus susilo | 523-528 |
| | Fadhilah Maryadi Putra, Oktiyas Muzaky Luthfi | 529-533 |
| | Abdul Manab | 534-537 |
| | Rositawati Indrati, Dian Vidiastuti | 538-543 |