Call for Papers ICIT 2021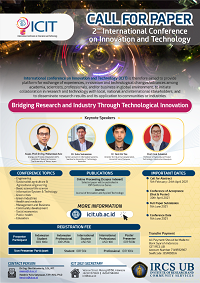 Further information, please visit :
About The Authors
Selvia David Richard
STIKES RS. Baptis Kediri
Indonesia
Nursing
Dyah Ayu Kartika Wulan Sari
STIKES RS. Baptis Kediri
Indonesia
Nursing
Article Tools

Abstract

Print this article

Indexing metadata

How to cite item

Finding References

Email this article
(Login required)

Email the author
(Login required)
Keywords
Alih teknologi
Amplang cracker
Bali
Belt Transect
Coral Disease
Coral Predator
Crown of Thorns Starfish
Klangon Village.
Mackerel fish
Mechanical frying machine
Merino sheep, alternative food production, Artificial Insemination
Strategi Komunikasi, Pemasaran, Pesantren, Pemberdayaan
Turtle, Conservation, Application, i-LENUK
catfish, probiotic, survival rate, feed conversion ratio
cokelat
composite flour
desa wisata
educational tourism
efisiensi
meat balls
purified porang flour
Refbacks
There are currently no refbacks.
Copyright (c) 2020 Journal of Innovation and Applied Technology