Editorial Policies
Focus and Scope
Article published Journal of Innovation and Applied Technology (JIAT) include the results of community service related to Community Development, Economic Development, Transfer and Diffusion of Technology, Innovation Science and Technology, Institutional Innovation, Development of Local Wisdom, Basic Social Services for Disaster Mitigation adaptation to Climate Change, and entrepreneurship that have been considered and approved by the Editorial Board.
Section Policies
Articles
| | | |
| --- | --- | --- |
| Open Submissions | Indexed | Peer Reviewed |
Article in Press
| | | |
| --- | --- | --- |
| Open Submissions | Indexed | Peer Reviewed |
Peer Review Process
In the reviewing process, there are at least two reviewers for each manuscript in the related topic. In addition, author(s) can also propose the candidate of reviewers. Judgement from the first reviewer will be main priority for editor to make decision, if there are only two reviewers. In case of three reviewers, decision will be made from at least two reviewers. Three weeks will be needed for reviewer to complete one round reviewing process.
Generally, the candidate of reviewers will be chosen based on their reputation in the international publication number and quality. Next step, The Editor send the invitation letter for each candidate of reviewer. After the candidate of reviewer informed their availabilities for reviewing process, Editor create account for each reviewer and then send manuscript by OJS.
All reviewing process are in blind review and managed by editor in the OJS.
Publication Frequency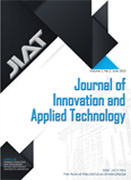 Journal of Innovation and Applied Technology - JIAT publishes articles twice a year on June and December.  It was published by Institute of Research and Community Services (LPPM) University of Brawijaya on Maret 2015.
Open Access Policy
This journal provides immediate open access to its content on the principle that making research freely available to the public supports a greater global exchange of knowledge.
Archiving
This journal utilizes the LOCKSS system to create a distributed archiving system among participating libraries and permits those libraries to create permanent archives of the journal for purposes of preservation and restoration. More...
Journal of Innovation and Applied Technology
 JIAT publishes articles twice a year on June and December.  It was published by Institute of Research and Community Services (LPPM) University of Brawijaya on Maret 2015. JIAT aims to publish articles on Community Services results dealing with Innovation and Applied Technology.
Publication ethics
Publication Ethics
This statement is a declaration of the ethical behavior of all parties involved in the act of publishing an article in JIAT. The parties are Authors, Reviewers, Editors, and Publisher.
 Publication and Authorship 
All submitted papers are subject to blind peer-review process by at least one reviewer.
Review processes are blind peer review.
Peer-reviewed consist of four main areas: the originality, the important finding, usability for community, and guide for author.
Minor and major revision can be published only if the authors revised the manuscript on the basis of the reviewer's comments.
All paper will be plagiarism checked.
All articles in JIAT can be re-used and re-distributed without restriction, as long the original work is properly cited.
Multiple submissions.  It is unethical to submit the same manuscript to more than one journal at the same time. Make sure that submitted manuscript is not under the review in the other journals
Corrections and Retractions, when errors are identified in published articles, the publisher will consider what action is required and may consult the editors and the authors' institution(s). Errors by the authors may be corrected by a corrigendum and errors by the publisher by an erratum.
Retraction. If there are errors is significantly affect the conclusions or there is evidence of misconduct, this may require a retraction.
 Duties of Authors
Following the guide for author: Authors should follows the guide for author for JIAT.
Originality and Plagiarism: Authors must ensure that they have written entirely original work and free from plagiarism.
Misconduct, Fabrication and Data falsification: Articles published are free from misconduct, including: Fabrication, falsification of data.
Conflicts of Interest: All authors should clearly disclose in their manuscript any financial or other substantive conflicts of interest. The authors also guarantee that the submitted paper is free from any kind of conflict of interest.
Fundamental Errors in Published Works: If the author discovers a significant error or inaccuracy in the submitted manuscript, then the author should promptly notify the journal editor or publisher and cooperate with the editor to retract or correct the paper.
Duties of Editor
Publication Decisions: Editor decide the acceptance of the manuscript based on the reviewers comments.
Review of Manuscripts: Chief editor and Editors will lightly review based on JIAT scope of area. After the editor pre-decision further review will be conducted by reviewers.
Confidentiality: The editor must ensure that information regarding manuscripts submitted by the authors is kept confidential.
Duties of Reviewers
Recommendation Statement: Reviewers will only recommend the acceptance of the paper to editors based on their merit scientific review. The decision remain in Editorial board.
Standards of Objectivity: Review of submitted manuscripts must be done objectively and the reviewers should express their views clearly with supporting arguments. The institution-based decision should be avoided. Hence, the objectivity of the reviewers can be maintained.
Promptness: Prior to the review, the reviewers should respond in a reasonable time-frame. The review process should be maintained at the length of 1-3 months after the invitation for reviewing manuscript was sent.
Trust and Confidential issues: All data in the manuscript should always in confidence. Therefore, all data must not be disseminated and leaked to the public before the paper is published